For many children, Easy Social Stories can make all the difference between an enjoyable new experience and an emotional nightmare for everyone. Easy Social Stories are meant to help prepare children for new situations - like the first day of school, going to the Doctor or even getting a haircut - by letting kids know what to expect, in a way they can understand. Stories of this kind have helped children with Autism, Aspergers, ADD, ADHD and other special needs - but they are also great for any child, about to have a new experience, like going to the beach, taking an airplane ride or going to the dentist.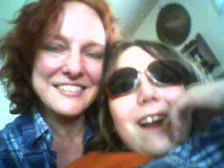 I have begun a collection of these stories for my eldest daughter, who has autism symptoms. Her teacher suggested I make them for her, to help her understand what will happen at the holiday party or to help her understand why it's important to cut her fingernails. I have compiled my efforts here, in the hopes that others will benefit from them, too.
These printable stories are electronic - they are downloaded or emailed to you in a .PDF format. You can view them on most handheld devices (like smart phones, iPad, Nook & Kindle) or you can print them for school and home - again and again, if you need to. They have been purposely designed to be inexpensive, so that you and your child can benefit from as many of our Easy Social Stories as needed. Personalized stories can be made for you and your child (for an additional fee or in collaboration to add to our catalog). You can even supply photographs and text, if needed. Please email me if you would like more information about custom stories.
In addition to Easy Social Stories, you will find a free tutorial, written to get kids on-line, and some terrific site suggestions to help kids learn to read - my kids just love these sites. You'll also find my own e-book that talks about my journey with autism and some terrific tricks that I have learned to help me better cope with the demands of my special child - a gift to you, so you can get to know me a bit and so I can share some tips I have learned along the way. You'll even find a collection of free coloring pages you can share with your students and families; holiday stuff I made for my kids that your kids might like, also.
Please check out GFCF Kids - containing information on how anyone might implement a wheat and dairy free diet for your family. This section is full of information on GFCF Diet, recipes, suggested menus and GFCF product recommendation. You might also be interested in our links page containing a variety of links that I have found to be extremely helpful in my journey. Herbs for Kids is a new section we have added, which lists all-natural herbal products that I use with my kids for a variety of issues. These are great for all kids - the more we keep chemicals out of our children, the better their own bodies can work.
If you have any questions, please feel free to contact me. Thanks for stopping by - please bookmark this site so you can see what's new, or sign up for my email list for latest release information.